Annual Report for ISAC 2022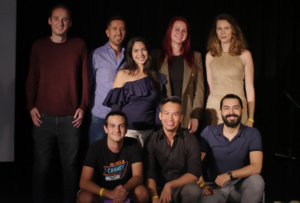 International Society for Arts and Culture, o.z. (ISAC)
Landererova 8, 811 09 Bratislava, Slovakia
www.isac-eu.org
hello@isac-eu.org
Date: January 29, 2023
Subject: Annual Report for International Society for Arts and Culture, o.z. – 2022
We are pleased to present the 2022 annual report for the International Society for Arts and Culture, o.z. (ISAC). This report highlights our civil association's achievements, financial performance, and future plans in promoting arts and culture throughout our community and beyond.
I. Overview
The International Society for Arts and Culture, o.z. (ISAC) is a non-profit civil association established in 2017 in Bratislava, Slovakia. Our mission is to foster creativity, cultural exchange and acceptance, and appreciation for the performing arts by providing opportunities for artists, enthusiasts, and the general public to engage in meaningful artistic and cultural experiences. Our primary activities include organizing events, workshops, shows, and collaborative projects with local and international partners. Under the ISAC family are Funnylicious Improv theater and Story Nights: Bratislava – Vienna – Budapest.
II. 2022 Achievements
A. Events and Shows
In 2022, ISAC successfully organized and hosted six events and shows in Bratislava, Slovakia, despite the hardships of the pandemic years of 2020 – 2021, which continued to impact the performing arts sector into 2022.
Highlights of the year include:
"Our Stories: Before I Die…" – An original long-form improvised play performed at Teatro Colorato in Bratislava on May 11, 2022. The show marked a continued maturation of artistic work produced by Funnylicious Improv Theater. The performance invited people to reflect on their personal aspirations and their mortality while using the audience's input as inspiration for the play.
"One Day in Bratislava" – The first fully long-form improvised play produced by Funnylicious Improv Theater. Premiered at Teatro Colorato in Bratislava, the show paid homage to the city while focusing on various relationships, including LGBT and minorities.
"Improv Night at Gymnazium Jura Hronca" – A show designed and tailored to teens and preteens at the Jura Hronca elementary and high school in Bratislava. An improv show with a comedic theme is a great introduction into the world of improvisational theater for many young Slovaks. This is an important outreach show to create awareness and interest in the art form.
"Holiday Spectacular Show" – Our year-end improv show with a holiday theme to close the year with. It is also the show where Funnylicious celebrates turning eight years old. This is a short-form format comedy show where improvisers, new and experienced, share the stage to entertain the audience.
B. Collaborative Projects
In 2022, ISAC partnered with local and international organizations to promote the acceptance, and visibility of marginalized groups, cross-cultural awareness, the importance of access to arts, and enriching the community's artistic landscape. Key collaborations include:
"Bratislava True Stories" – A collaboration with Fjuzn Festival and the Milan Simec Foundation (Nadácia Milana Šimečku) to organize a storytelling event where all speakers have seven minutes to tell their stories, a one-of-a-kind event described as a cross between documentary and theater, creating an intimate and often enlightening experience for the audience and tellers.
"Pro Act Festival" – An international theater festival based in Kyiv, Ukraine, and in 2022 half of the festival took place online via the Zoom platform due to the ongoing war in Ukraine. Funnylicious Improv Theater was invited to present an improv workshop to budding actors and artists from Ukraine. The workshop was held online.
"International Cultural Afternoon" – A partnership with two other civil associations called ŠtArt and The Chamber Choir to bring together the artistic souls of Bratislava and the various organizations active in the integration of foreigners, to show the many opportunities available for locals and foreigners in the city.
"CommonTime Educator Summit" – An international and completely online event where teaching artists from all over the world can share best practices and hold workshops and talks. Funnylicious Improv Theatre was represented by Hon Chong, who gave a talk on 'teaching theatre through improv' to an international audience.
C. Classes and Training
In 2022, various classes and training sessions were held both online and in person. Finally, it was possible to return to in-person classes, which helped kick-start various programs again.
"Short-form Improv Class" – Open to the public, these weekly classes focus on comedy improv and improv skills for life. They are suitable for beginners and intermediate levels.
"Improvised Singing" – A beginner's class for those who want to incorporate music into improv and expand their comfort zone. Open to the public, non-singers, and musicians alike.
"Stage Combat" – Learn hand-to-hand stage combat, open to beginners.
"Improv for Kids and Teens" – In 2022, Funnylicious introduced new improv workshops targeting kids aged 8-12 and teens aged 13-17.
III. Financial Performance
The International Society for Arts and Culture, o.z., experienced a challenging financial year in 2022, with a net deficit of €2,147.78. The organization generated a total revenue of €5,775.54, while the total expenses amounted to €7,923.32. The main sources of revenue included class/workshop fees and event ticket sales, with a significant portion of other income contributing to the total revenue.
Revenue Breakdown:
Grants: €0
Donations: €0
Event Ticket Sales: €1,432.00
Class/ workshop: €2,300.00
Sponsorships: €0
Other Income: €2,043.54
Expenses Breakdown:
Operational Costs: €1,600
a. Rent and Utilities: €600
b. Office Supplies: €300
c. Insurance: €200
d. Maintenance: €300
e. Miscellaneous: €200
Event Production: €4,404
a. Venue Rental: €700
b. Equipment Rental: €80
c. Performers and Artists Fees: €3,400
d. Catering: €224
Staff Salaries: €0
a. Executive Director: €0
b. Program Coordinator: €0
c. Administrative Assistant: €0
Marketing & Promotion: €143.78
a. Advertising: €95
b. Graphic Design: €35
c. Printing: €13.78
d. Social Media Management: €0
Collaborative Project Expenses: €0
a. Partner Contributions: €0
b. Travel and Accommodation: €0
Starting Balance on 01/01/2022: €2,923.32
Ending Balance on 12/31/2022: €775.54
ISAC will need to focus on increasing revenue and reducing expenses in the coming years to achieve a balanced budget while continuing to deliver on its mission and support various arts and culture initiatives in the community.
Despite the financial challenges, ISAC remained dedicated to its mission and was able to execute numerous successful events and workshops throughout the year. The organization will seek additional funding opportunities, including grants, donations, and sponsorships, to improve financial stability in 2023.
In conclusion, the International Society for Arts and Culture, o.z., continued to make a significant impact on the local arts and culture community in 2022. The organization's dedication to fostering creativity, collaboration, and education was evident in its numerous events, workshops, and collaborative projects. While the financial performance in 2022 presented challenges, ISAC is committed to implementing strategic financial planning and exploring new revenue streams for 2023 to ensure the organization's sustainability and growth. By strengthening partnerships and increasing community engagement, ISAC aims to expand its reach and amplify its impact in the coming year.
IV. Future Plans
Looking forward to an exciting 2023, International Society for Arts and Culture, o.z., will:
Develop a comprehensive fundraising strategy, including grant applications, corporate sponsorships, and individual donations.
Expand the range of classes and workshops offered, targeting diverse audiences to increase revenue and engagement.
Enhance marketing and promotional efforts to raise awareness of ISAC's initiatives and attract more participants and supporters.
Strengthen relationships with local artists, cultural institutions, and community organizations to explore collaborative projects and shared resources.
Continuously evaluate and optimize operational expenses, ensuring that resources are allocated efficiently to support the organization's mission and goals.
Strengthening partnerships with international cultural institutions, festivals, and theatres to facilitate more cultural exchanges and collaborative projects.
We, at ISAC, are dedicated to the organization's mission and look forward to another year of celebrating and promoting arts and culture in the community. With a renewed focus on financial sustainability and strategic growth, ISAC is poised to make an even greater impact in 2023.
Thank you for your ongoing support and commitment to the International Society for Arts and Culture, o.z.
With appreciation,
Hon Chong
President
International Society for Arts and Culture, o.z. (ISAC)