The Art of Telling True Stories
Overview
Date: 14.9.2022 (Wednesday)
Time:  18:30 – 21:00
Venue: Panorama City – Tower 1, Landererova 8, 811 09 Bratislava
Fee: 25€ (online payment), 35€ (cash at the door)
Ticket: https://www.yesticket.org/…/funnylicious-improv-theater/
Learn how to tell your own powerful personal stories that will captivate your listeners.
The Art of Telling True Stories covers everything from finding the right story to structuring narrative stories to writing and telling your first true story in front of a live audience.
Why you should take this workshop
You may think that you don't have any stories to tell, but that's not true. Everyone does. Find the stories that matter to you. Stories that define your values.
Learn to tell your stories well and tell them compellingly or risk having your stories told poorly by someone else. It's a powerful skill to have to be able to tell an honest story while preserving your unique perspective.
What you will learn
1. What makes a compelling and suitable story for the stage?
2. How to captivate your audience
3. How to find stories from your own life
4. How to overcome your fears of telling your story
5. Creating a solid story structure
Workshop outcome
By the end of the workshop, you'll have at least one seven-minute true personal story (if not more!) to share in the next live storytelling show.
Who is this workshop for
Planning to participate in a story slam or a live storytelling event? Or maybe you just want to improve on your public speaking skills?
Stories are judged for their narrative arc, plot, and ability to connect with the audience to evoke empathy. And the storyteller must do all this within five to seven minutes – long enough to include personal details and short enough to keep the audience's attention.
Why learn storytelling?
We are storytelling animals, a wise man once said. We are not the strongest, biggest nor the fastest of all the species around but we have survived through the stories of others who survived.
Nowadays, we have lost this skill through the consumption of mass media. Imagination is a muscle which has to be trained. We get the perfect pictures, sounds and illusions delivered from TV and Internet and our imagination gets weaker and weaker.
Storytelling helps the listener to create their own pictures in their head through the words of the storyteller; a true gift to build a better world.
Topics covered:
Why do we tell stories?

Working with silence, pace, speed dynamics

Projection, articulation and intonation

Body language awareness

Physical presence

Connecting with your audience

Fear, stage fright and uncertainties
About the trainer
Hon Chong is a teaching artist, actor, storyteller, improviser, and founder. He is the creator and producer of Story Nights, an international storytelling community headquartered in Bratislava with local chapters in Vienna and Budapest. Story Nights produces the well-received "Bratislava True Stories" shows that have featured new and experienced storytellers from all over the world. Hon has told stories on stage to international audiences from Europe to Asia.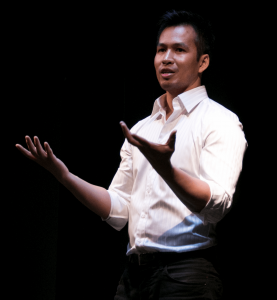 If you are a refugee, an asylum-seeker, or a member of the marginalized communities, you are eligible to join this workshop for free. One of ISAC's aims is to provide a platform for voices and stories that are otherwise unheard and untold. Please email, hello@isac-eu.org for scholarship inquiries.