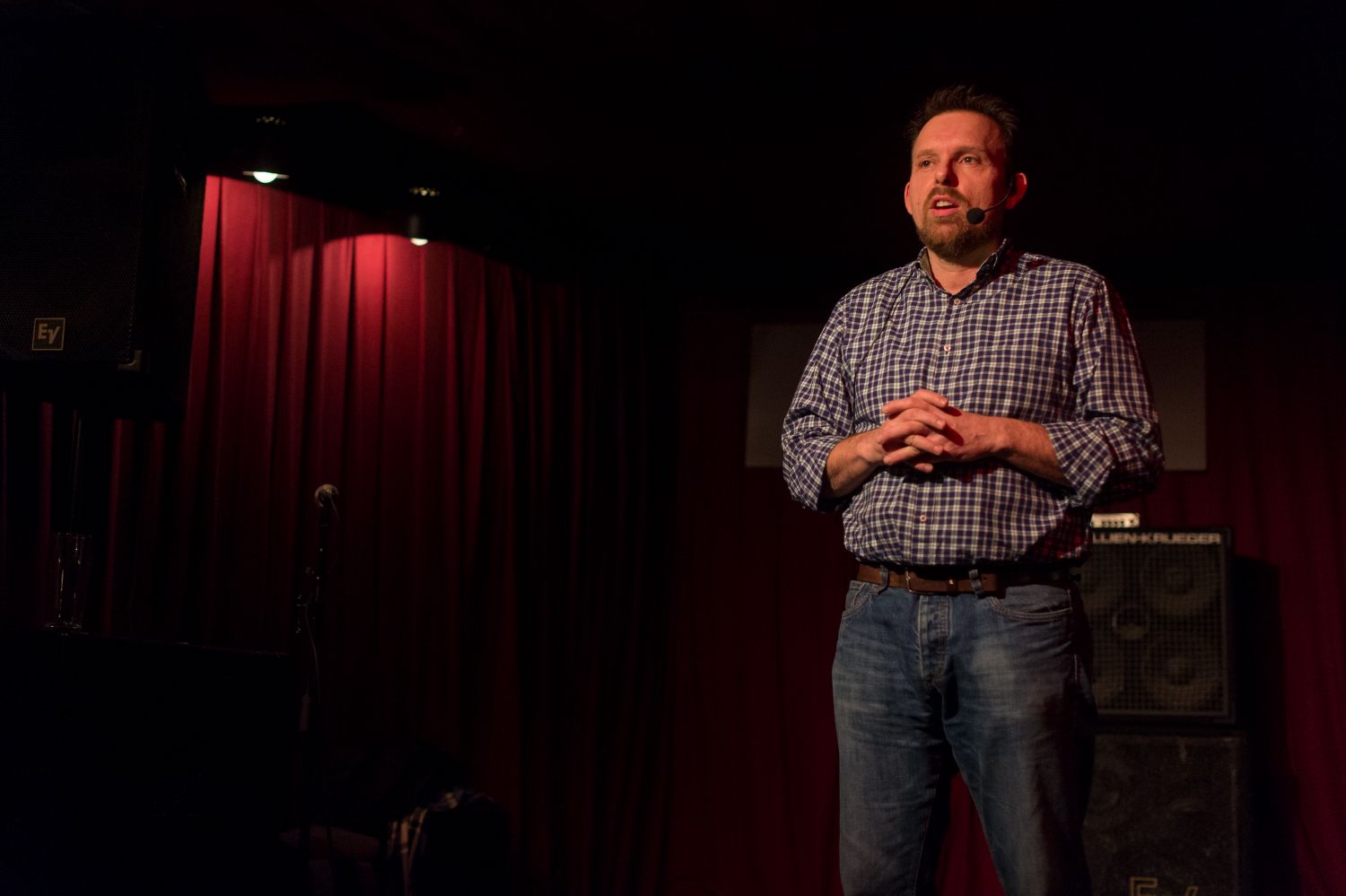 Vienna True Stories
18. March, 2018 @ 7:00 pm

-

8:30 pm

|

Free
We're back for another round of personal stories told live! Each show has a theme and the storytellers explore and interpret it in their own unexpected ways. Our tellers are selected to reflect diverse voices from various backgrounds. We also invite one or two audience members to come on stage during the event to share their stories.
All speakers have 5 to 7 min. to tell their stories. Don't miss out on this one of a kind event described as a cross between documentary and theater, creating an intimate and often enlightening experience for the audience and tellers. Come join us for a memorable evening of stories that are relatable, moving, inspiring, funny and straight from the heart.
Theme: Wise Fools
Our theme was chosen in honour of the World Storytelling Day 2018 which is celebrated worldwide on March 20th, whose theme this year is 'Wise Fools'.
In life, we sometimes make foolish decisions and get ourselves into troubles. Is it possible to be a fool but wise at the same time? Somehow we manage to bring ourselves out of bad situations, which require wise decisions. Tell us how you got in and out of bad situations. Share with us your stories of being foolishly wise.
If you want to tell a story, send Nikolas a message or e-mail nh@storytellingaustria.at
Host:
Nikolas Haugeneder (AT)
Featured Storytellers:
To be announced soon.
Admission: Free (but your kind donation(suggested €5,-) will help us pay the cost of running the event).
DOORS OPEN AT 6:30 PM
SHOW BEGINS AT 7:00PM
Who are we?
Story Nights is a nonprofit storytelling club and live event series dedicated to inspiring, healing, transforming and entertaining people through the art of storytelling. From our humble beginning in October 2015 in Bratislava, our storytelling group has been growing steadily and we now organize live storytelling events in Bratislava, Vienna, Budapest and even one in Chandigarh, India! Story Nights: Bratislava – Vienna – Budapest – Chandigarh reflects the cross-border collaborations to inspire and bring people of all backgrounds and cultures together under the power of stories. We are proud to be part of the International Society for Arts and Culture, o.z.
FAQs:
Q: What type of stories can I tell/ hear?
A: We want people to share real life stories about their lives – and every event has a different theme but the most important thing is it must be your own real story. This is NOT an event for debates, political speeches, philosophical musings and religious sermons. We also do not tolerate offensive, hateful and objectifying talks.
Q: I have a really good story to share which is relevant to this theme.
A: Great! We would love to hear your story live on stage! Please send Hon an email with a short description of your story. nh@storytellingaustria.at
Q: Does my story have to be in English?
A: Yes, because we want to hear stories from all over the world.
Q: Can I come and just listen to others' stories?
A: Yes, definitely!
Q: What do I need to do if I want to share my story?
A: You can send a brief email to nh@storytellingaustria.at together with a short description of your story
Q: Can I tell my stories in the form of a poem/ song?
A: Yes! As long as you don't read it from a paper.
Q: I have no experience in storytelling/ public speaking at all. What if people hate my story?
A: You don't need to be a master storyteller. All skill levels are welcomed.
Q: My English is not good. What if people don't understand me?
A: If you need help with your story, feel free to email nh@storytellingaustria.at
Q: My story is not funny or interesting enough for people to listen to!
A: Our event is friendly, open, intimate and honest. This is not a stand up comedy night where you are expected to entertain the audience. Relax, take a deep breath and enjoy the empowering feeling of having a platform to share your stories with an empathetic and supportive audience.
Our FB page and group:
Story Nights
Story Nights: Bratislava – Vienna – Budapest
Education partners:
ISAC – International Society for Arts and Culture
Abracadabra Story Company – www.storytellingaustria.at
Share This Event!